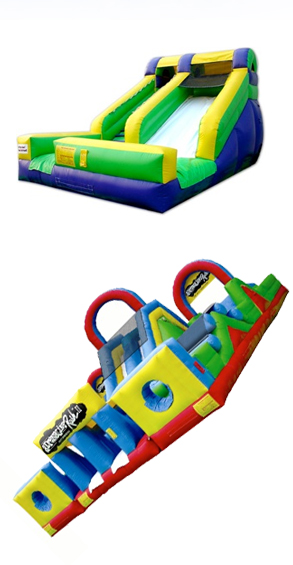 Moonwalk Rentals CT is Connecticut's number one place for any party rental need. We have bounce houses, waterslides, interactive inflatables and tents. All of our equipment is priced to compete with other companies in the area and we know how tough the economy is so we make everything as affordable as can be. Usually paying a lower price means that youll take a hit with customer service and quality, but not with Moonwalk Rental CT! You will still receive top of the line equipment, on time delivery and clean inflatable's because it's our name on the line!
Our moonwalk rentals are some of the best in the industry and we offer themes and types that some people have never heard of. We always stay on top of what is new an upcoming, but also want to invest in equipment that will be timeless. Unlike a lot of other companies who hang on to equipment for years and years, even after its been patched too many times, we always get rid of equipment that is no longer safe or just starts looking old and faded. We take prestine care of our equipment so that it lasts longer and is safe for our customers. We also take the time to clean everything between rentals and make sure it is sanitary. We know if it were our kids we would want to make sure that after thousands of kids have used the bounce house, it is safe and clean for our own kids.
There are so many choices to choose from with us, that you might just have to rent two things! Whether it's a tent and a bounce house, a bounce house and a waterslide, or a bounce house and a dunk tank, we can create any custom package you have in mind. Of course, we give discounts for renting more than one item, and also give great discounts for weekday rentals and multi day rentals. Some of our best deals happen right at the end of the school year when people have parties in the middle of the week to celebrate the last day of school with a waterslide or bounce house! Call us today to work out your weekday rental deal!